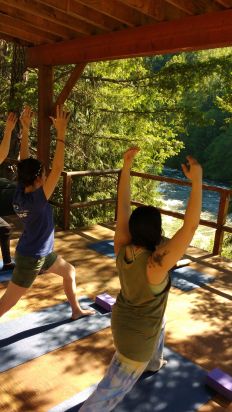 Yoga & Wellness Leaders:
Why host a retreat at REO?
New river's edge yoga centre overlooking the beautiful jade-green Nahatlatch River
Packages are all-inclusive of lodging, meals & adventures
Easy to organize - REO does all the work and logistics
Design your own retreat or choose one of REO's packages
Comfortable lodging in unique glamping tents
Delicious and healthy home-style meals
Discounted upgrades for whitewater rafting - the ultimate team-bonding adventure
Earn income by bringing your followers; reward yourself financially & spiritually
RIVERS EDGE GLAMPING TENTS

Enjoy our wilderness setting far removed from the hustle & bustle of everyday life. Sleep to the sound of the river. Relaxing campfires, amazing meals, private beach, nature trails and beautiful scenic views are all included.
6 DAY/5 NIGHT DELUXE YOGA RETREAT:
5 nights lodging in river's edge glamping tents
14 meals; vegetarian, vegan & pescatarian options available
Beverages with each meal: coffee, tea, milk, almond milk, juice or lemonade are all available
River adventure: whitewater rafting or scenic float
Guided hike in Nahatlatch Canyon
1 hour, full-body aromatherapy massage
Nightly campfires at REO entertainment area
Dedicated time slots for your yoga sessions
Access to all resort amenities: hot tub, nature trail, private beach, volleyball, showers & bathrooms
All-Inclusive Retreat Rates for Guests:

2 share lodging $1399 CAD / $1087 USD
3 share lodging $1239 CAD / $963 USD
4 share lodging $1079 CAD / $839 USD
Single occupancy available: add $160 CAD /$124 USD to 2-share price

Yoga Leader Income: 6 Day/5 Night Retreat
Yoga leaders earn direct commission income. For direct bookings from your followers, members, friends: $400 CAD / $311 USD per attendee based on full retreat price
REO bookings from our followers, clients: earn $160 CAD / $124 USD per attendee
Organize 5 followers: earn $2,000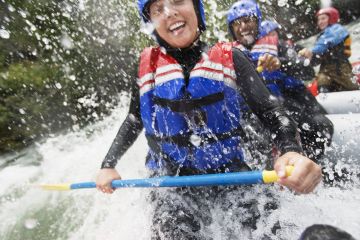 4 DAY/3 NIGHT YOGA ADVENTURE RETREAT
3 nights lodging in Glamping tent
8 meals; vegetarian, vegan & pescatarian options available
Beverages with each meal: coffee, tea, milk, almond milk, juice or lemonade all available
River adventure: whitewater rafting or scenic float
Guided hike in Nahatlatch Canyon
$70 massage credit towards a full-body aromatherapy treatment
Nightly campfires at REO entertainment area
Dedicated time slots for yoga sessions
Access to all resort amenities: hot tub, nature trail, private beach, volleyball, showers & bathrooms
All-Inclusive Retreat Rates for Guests:

2 share lodging $929 CAD / $699USD
3 share lodging $869 CAD / $649USD
4 share lodging $799 CAD / $599USD
Single occupancy available extra fee $210CAD / $160USD


Yoga Leader Income:
Direct bookings from your followers, members, friends: $200 CAD / $150 USD per attendee
REO bookings our followers, clients: $80 CAD / $60 USD per attendee
Organize 10 followers: earn $2,000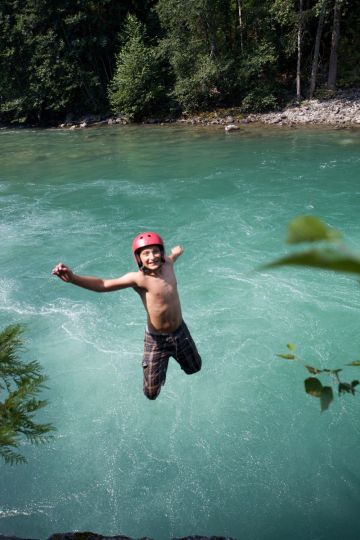 3 DAY/2 NIGHT DELUXE YOGA RETREAT OR WEEKEND YOGA RETREAT
1 night lodging in glamping tent (Weekend); 2 nights with Deluxe Retreat
4 meals/5 meals with Deluxe; vegetarian, vegan & pescatarian options available
Beverages with each meal: coffee, tea, milk, almond milk, juice or lemonade
Guided hike in Nahatlatch Canyon
$70 credit towards river adventure: whitewater rafting or scenic float
$35 massage credit towards full-body aromatherapy treatment
Nightly campfires at REO entertainment area
Dedicated time slots for yoga sessions
Access to all resort amenities: hot tub, nature trail, private beach, volleyball, showers & bathrooms
RETREAT LEADER INCOME:
Direct bookings from your followers, members, friends: $80 CAD / $60 USD per attendee
REO bookings our followers, clients: $40 CAD / $30 USD per attendee
Organize 20 followers: earn $1,600
All-Inclusive Retreat Rates for Guests:
Shared lodging by gender $399 CAD / $299USD
Single supplement: $90 CAD / $70 USD per night
media/documents/pdf/reo-yoga-retreats-2.pdf