Summer Bliss Yoga Retreat with Heather and Nicole
Yoga Retreat (up to 10 sessions) + 3 Nights Glamping + Rafting or Massage + Canyon Hike + 8 Meals + More! June 29 - July 2 & Aug 31 - Sept 3 2018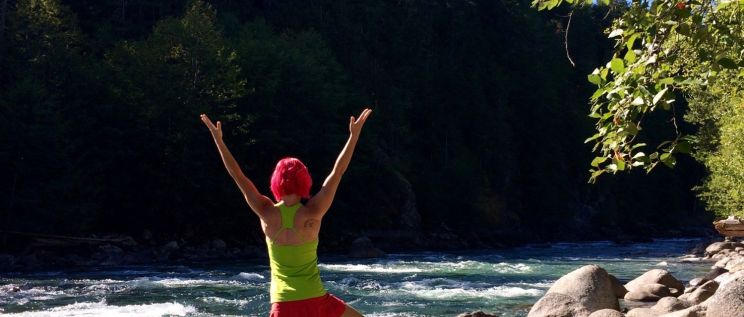 Summer Bliss Yoga
The ultimate yoga retreat, June 29-July 2. 2018. Up to 10 yoga sessions with Nicole & Heather. Includes river's edge glamping tents,8 meals, desserts, canyon hike, rafting or full-body massage & more!
4 Day / 3-Night Yoga Adventure Retreat: All-inclusive: 8 meals + up to 10 yoga sessions + canyon hike + rafting
Reg $750-1000 pp
After Feb 15
$CAD / $USD
Book by Feb 15
$CAD / $USD
4 Share (4 full-size beds or 1 queen bed & 3 single beds)
$750 / $599
$675 / $539
2 Share Queen (or 1 queen & 1 twin; or 2 full-size beds)
$875 / $699
$800 / $639
2 Share Luxe King Bed (luxe decor; limited availability)
$1000 / $799
$900 / $739
Choice of Whitewater or 1-hour massage
Included
Included
Yoga (up to 10 sessions) + Guided Canyon Hike
Included
Included
Single Supplement: add to 4 share price (queen or full-size bed)
$375 / $300
$375 /$300
| | | |
| --- | --- | --- |
| 2nd Adventure | 1-Hr Full-Body Massage | Own Tent or RV |
| $120 CAD / $95 USD | $120 CAD / $95 USD | $675 CAD / $539 USD |
Check out our Glamping tents, facilities and Meals. Call 604-941-9777 or 800-736 RAFT; email Bookings.
3-Night Yoga Adventure Retreat includes:
3 nights Glamping: 4-share river's edge tents with full-size beds are base package; 2-share queen and luxe king bed upgrades available (sample our luxe units here)
Up to 10 wellness sessions on our beautiful outdoor yoga stage including; Yoga (Hatha, Yin, Vinyasa, Meditation/Pranayama and Restorative), Pilates, Belly Dancing, and Self-Massage Ball Therapy (instructor bios below)
Choice of a Whitewater Rafting Adventure on the Nahatlatch or Thompson River, scenic float on the Fraser River (easy), or 60-minute full-body massage
Guided hike into the Nahatlatch Canyon
$25 GC to apply to 60 or 90 min massage or rafting adventure
8 home-style meals & desserts; vegan options available
Coffee, organic tea, milk, almond milk, hot chocolate, juice, water
Full use of the resort facilities and amenities
Campfire and hot tub entertainment area
BONUS: Free Sunday Night Social Hour with wine, appies & craft beer from Foamers' Folly

Summer Bliss Yoga Retreat Hosts
Nicole Roy
Nicole is a bona fide movement enthusiast! Throughout her life, she has explored a variety of dance styles, played a myriad of sports and experimented with a multitude of ways to move.
Nicole is a lively and creative instructor. Her classes are challenging, but her quirky personality and contagious laughter make her classes a lot of fun. As a teacher, Nicole strives to make a positive difference in people's lives. She strongly believes in the uplifting powers of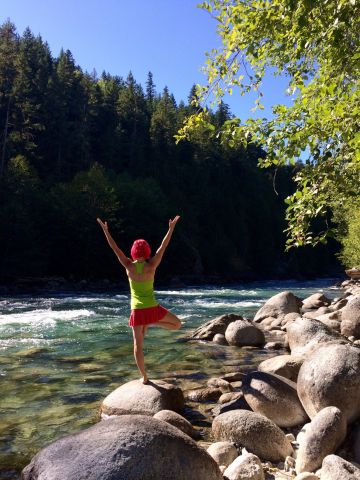 yoga and movement. She encourages students to explore their boundless potential and release their inner sunshine. Nicole is trained and certified in Yoga (Hatha, Flow and Power), Mat Pilates and Belly Dance.
"If you are looking for a challenge in a high-energy, fun and supportive environment, come practice with Nicole!" - Sheynal Saujani
"Nicole's enthusiasm and energy are infectious! I love her classes because she always provides alternatives, so I'm able to participate to the best of my ability." - Barb Smith
Aside from her love of yoga and movement, Nicole is the proud mother of two accomplished young men; Kino and Kale. She is a dedicated vegan and an animal rights activist. She is also an avid traveler and a linguist; she speaks three languages fluently and a smattering of several others.

Heather Dawson
Heather is a Yoga and Pilates Instructor, a certified Yoga Tune Up Teacher and a Ball Therapy Practitioner. She provides classes that integrate anatomy awareness and myofascial release. Heather can be often spotted carrying a bag of massage balls to class as she thrives to help her students learn to move better and live a healthier, well-balanced life in their bodies. She currently has over a 1000 hours of teacher training, over 6000 hours of teaching and continues to pursue professional development opportunities, enhancing her skills and expanding her yoga practice.
Heather's classes take a science and therapeutic based approach in which one can expect to: undo the stresses of your daily life; locate those blind spots in your body that are holding tightness; and learn to strengthen and release muscles and tissue to work towards a pain free life. Through an environment of encouragement with a splash of laughter. Heather's classes are fun and informative.
When not teaching, Heather enjoys skiing, hiking, snowshoeing and biking. A concert aficionado, she has a great love of music and takes pleasure in creating playlists for her classes. When she isn't enjoying the outdoors she can be found in a yoga class, quietly meditating at home cuddling with her two Chiweeenies - Audrey and Jerry. "Teach this triple truth to all: A generous heart, kind speech, and a life of service and compassion are the things which renew humanity. - Buddha "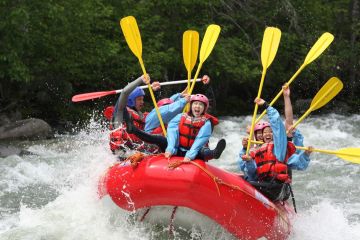 "Heather has been my primary yoga instructor for several years. Heather's classes are challenging and rewarding. Even in a full class she's aware what everybody is doing and taking the time to offer individual advice. Her unique blend of gentle humour and knowledge of kinesiology make it easy to keep testing my own limits - and surprising myself by what I can accomplish. I always walk out feeling a bit taller and in a relaxed, positive frame of mind." Scott Simpson.