Nahatlatch River - Classic section (class 3-4)

The best rafting river anywhere near Vancouver!

Length:
12 km, 4-5 hrs
Dates:
May to September
Times:
10 am or 2:30 pm
---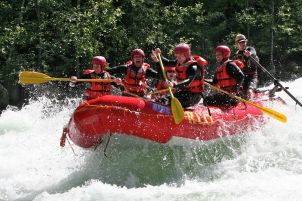 Our most popular and premier run! The upper Nahatlatch is simply the best whitewater rafting trip in southwest BC!
REO conducted the first-ever Nahatlatch raft descent in 1982 and we continue our long tradition of excellence today. Our Nahatlatch trips are rated one of the best adventure travel values in Canada!
What makes the Nahatlatch so addictive and perfect for rafting is the near-continuous, rapid-fire white water. The Classic section features 25 rapids over a 10 km (6 mile) stretch and an average gradient of 85 feet per mile.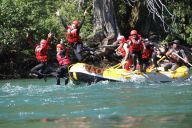 The Nahatlatch Classic is far more exciting than other rivers near Vancouver or Whistler. In fact, few rivers in North America offer such continuous action yet are still suitable for first-time rafters.
July and August are favorite months with guests as the water warms and the river level drops, making the river much more technical. July and August are also the best months for surfing waves and holes. The two Class 4+ rapids on the Nahatlatch Classic, Rose Garden and Meatgrinder, are always optional (we provide a bus shuttle around the rapids).
---
Best rapids:
Meatgrinder, Rose Garden, Headwall, A-Hole, Twisted Sister, Lose Yer Lunch, Rock & Roll & 17 more!
---
For those aged 8 to 13 years, our River Manager and Senior Trip Leaders will assess water levels and safety issues to determine which rapids and sections are run. Children under 14 years may also be assigned to paddle-assisted oar rafts with senior guides subject to water levels.