Thompson River (Class 3+): Whitewater Rafting Day Trip
Join REO on the legendary Thompson River in our small paddle rafts
Price-Match Guarantee: We take 8 guests per raft & guarantee our price with any company in similar size rafts. Go Small!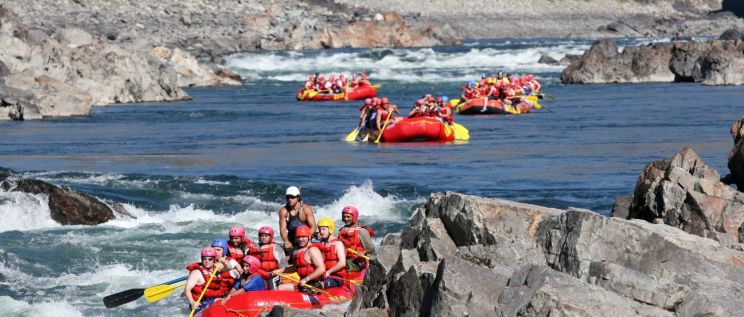 Thompson Day Trip
Definitely, one of the best August and September paddle rafting trips in Canada.


Thompson River Full Day: Class 3+ rapids
Reg $175 pp
Book May 1 2018 $CAD / $USD
Book Jan 1 2018
$CAD / $USD
Adults: Full day adventure with lunch & snacks (35 km)
$175 / $140
$125 / $100
Youth & Students Under 22: University & College included
$150 / $120
$125 /$100
All prices per person please add 5% GST and 5% Land and Water Access fee. Check out our Photo Gallery.

Thompson river trips are run daily from mid-August to September depending on water levels and reservations. For trips May to mid-August see Nahatlatch River day trips. We offer the best river trips at the best water levels, check out our Monthly Trip Planner.


Group of 8-15
Group of 16+
Add Glamping & Meals
Weekend..........$159 CAD
Midweek..........$149 CAD
Weekend..........$149 CAD
Midweek..........$139 CAD
$90 CAD pp 5-share
$150 CAN pp 2-share
Group rates above are per person, $CAD. For questions to customize your group trip, please call 604-941-9777 or 1-800-736-RAFT or email Bookings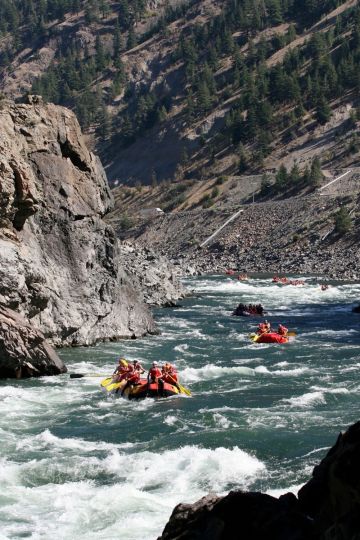 Raft the Thompson with REO
One of the best Aug and Sep paddle rafting trips in all of Canada. Enjoy huge roller coaster waves, desert canyon scenery, hot climate and warm water for swimming.
Why is Aug and Sep the best time to raft the Thompson? Unlike most rivers in North America, the Thompson is too high to paddle raft until the river level drops. During the sizzling summer heat (canyon temperatures soar to 40+ C / 100 + F), the river levels begin to fall and the waves actually become bigger and more defined!
REO uses paddle rafts with 8-9 paddlers while many companies take motor rafts with up to 22 passengers in one raft. Smaller rafts are more responsive and provide an exhilarating ride!
We also offer oar rafts with paddle assist, ideal for families and those that would rather enjoy the scenery and not paddle too hard. Recommended for ages 12+ (we make exceptions for youth with previous experience and/or strong swimming ability)

Thompson Day Trips include
1 professional REO river guide for every 8 guests (no noisy motors on our rafts!)
All rafting and safety equipment
Wetsuit & booties (optional) for your paddling pleasure
Catered lunch & river snacks featuring fresh seasonal fruit, sweets, and beverages
Bus transportation from Lytton BC meet spot (call for custom group departures from Boston Bar BC)
Trips depart Lytton BC at 11:00 am; return at 4:30 pm; arrive 10 min early for check-in/waivers