Stein River - Class 5 (extreme)
The steepest, wildest, most challenging paddle rafting trip in Canada!
Fill a Raft with 5 paddlers and save $400 on your booking.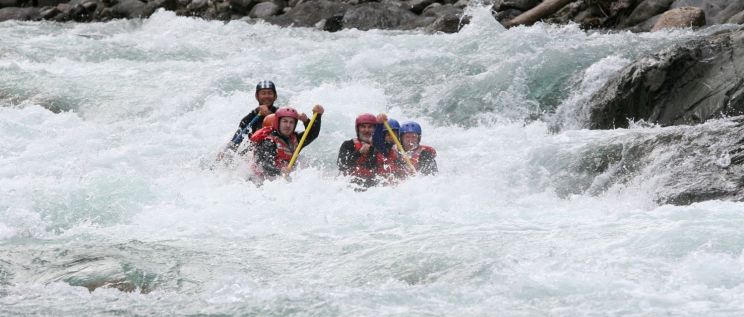 Stein River - Class 5
The Stein River is Canada's steepest commercially rafted river, ideal for advanced whitewater paddlers. *REO-exclusive*

Stein Extreme - Class 5
All-Inclusive: Rafting, 6 Meals, 2 Nights Camping
Per Person
$CDN
Per Person
$US
Stein River: Below Devils Staircase to Fraser River + Nahatlatch
$799
$615
Group of 5: Fill a raft and get a $80 discount pp (5 people); save $400
$719
$555
All prices are per person add 5% GST and 5% Land and Water Access fee. $US prices based on Apr 2017 exchange.


For more information please call 604-941-9777 or 1-800-736-RAFT or

email Bryan

2017 Dates - August 8-10, August 23-25 or by group arrangement
The Stein River Extreme Class 5 adventure is a 3 day/2 night adrenaline rush. This trip includes 2 rafting trips on the Nahatlatch river with swim and flip drills and a full day on the Stein.
To run the Stein safely as REO has for 23 years, we need special training. On the first river day this will include swimming a Class 3+ rapid on the upper Nahatlatch and raft flipping drills. Strong paddling and good swimming ability or previous Class 4 paddling experience is highly recommended.
REO pioneered the Stein River in 1993 for commercial rafting, the first descent was achieved by helicopter access to the upper Stein. In total only about 250 people in the world have ever rafted the Stein. Our 8 km journey down the Stein includes 27 amazing quick-fire rapids and some very technical moves. Paddlers need to be both precise and coordinated. Staying in the boat is recommended!
Stein Extreme includes

2 nights camping (own camping gear required; or upgrade to glamping)
6 delicious meals, snacks and beverages
1 professional REO guide per 5 guests and 1 safety kayaker per 10 guests.
Full use of the REO Resort facilities and amenities
Post-trip campfires and relaxation
Full-body O'Neill wetsuit, booties, life jacket and helmet for your comfort and safety
The Stein Class 5 is the most technically challenging and exciting rafting trip in Canada and only available with REO!
Sample Itinerary
DAY 1 - Tuesday
DAY 2 - Wednesday
DAY 3 - Thursday
Check in 5:00 - 7:00 PM
Dinner 7:00 PM
Campfire 9:30 PM


Breakfast 8:30 AM

Lunch 1:30 PM
2nd Upper Nahatlatch trip 2:20 PM (includes training for Stein)
Dinner 7:00 PM

Stein trip preparation 8:00 PM

Campfire 9:30 PM

Breakfast 8:00 AM

Bus to Stein 9:00 AM

Hike to put in 10:30; lunch

Launch rafts on Stein 12:30 PM

Fraser River take-out 4:30 PM

Post-trip drinks & snacks