Nahatlatch Class 4 - Our Premier Rafting Trip
Our most popular and exciting day rafting adventure: 25 amazing rapids!
SUMMER SALE: Book Midweek & Save up to $40 pp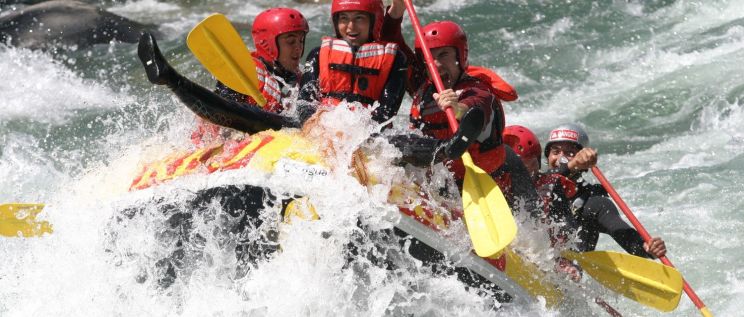 Nahatlatch Day Trip
Guaranteed the most exciting Class 3+ river in North America! 24 amazing rapids - 200% more than the average rafting day trip in BC.

Nahatlatch Day Trip 4.5 hours; Class 3-4+ rapids
Reg $159 pp
Midweek
(Mon-Fri) $CDN/$US
Weekend
(Sat & Sun)
$CDN/$US
Adults: Includes lunch, snack & beverage, equipment
$139 CDN / $105 US
$159 CDN / $120 US
Youth & Students Under 22: University & College included
$119 CDN / $90 US
$139 CDN / $105 US
All prices per person please add 5% GST and 5% Land and water Access fee. Check out our Photo Gallery.

Nahatlatch river trips are run daily from May to late-August depending on water levels and reservations (min 4 people per trip). For trips mid-August to September see Thompson River Day Trips. We offer the best river trips at the best water levels, check out our Monthly Trip Planner.
| | | | |
| --- | --- | --- | --- |
| Group 10-19 Weekends | Group 20+ Weekends | Midweek Groups | Add Camp & Meals |
| $149 C/$114 US | $139 C/$105 US | Please Call | $60 C/$46 US |
Group rates are per person $CDN for full payment by July 15, 2017. Please call to book groups of 10 or more for the Pre-Season Sale discount (code DAY will not apply). US prices based on exchange rates June 2017. For questions or to customize your group trip, please call 604-941-9777 or 1-800-736-RAFT or email Bookings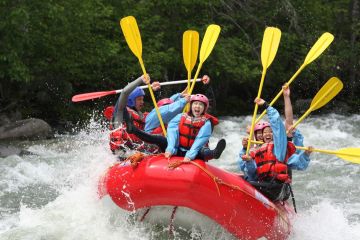 Raft the Nahatlatch with REO
The Nahatlatch River is the best Class 3+ river in North America with 24 amazing rapids.....that's 200-300% more rapids than most rafting day trips in BC!
The Nahatlatch is ideal for active adults and youth ages 13+ (ages 9+ on beginner to intermediate sections).
Trips start and end at our river's edge resort on the Nahatlatch River Resort. We have one KM of private river frontage in a wilderness canyon.
Just 2.5 hour drive from Greater Vancouver and a 4-hour drive from Seattle.
Two departure options: 9:30 am & 1:30 pm. Lunch is served after the AM trip and ends at 2:30 pm; Lunch is served prior to the PM trip and ends at 6 pm.
Buses leave REO at 9:50 am & 2:30 pm do not arrive late!
Nahatlatch Day Trips include
1 whitewater rafting trip with a REO professional guide and 6-8 paddlers
24 legendary rapids - more fun and more continuous than other rivers
Full-body O'Neill wetsuit, booties, helmet and lifejacket for your personal comfort and safety
Use of the resort facilities and amenities 60 minutes prior to and after the rafting
Delicious SunRype river snack and beverage during the trip
Nahatlatch River Day Trip: Sample Weekend Itinerary from REO Resort
| | |
| --- | --- |
| Morning Rafting: 9 AM check-in opens | Afternoon Rafting: 1 PM check-in opens |
| 9:00 - 9:30 AM: Check in & waivers | 1:00 - 1:30 PM: Check in and waivers |
| 9:30 AM: Collect personal rafting gear | 1:30 PM: Lunch at resort |
| 9:50 AM: Depart resort for raft put-in | 2:00 PM: Collect personal rafting gear |
| 1:20 PM: Arrive back at the resort, hot tub | 2:20 PM: Depart resort for raft put-in |
| 1:30 PM: Lunch at Resort | 6:00 PM: Arrive back at the resort, hot tub |
| 3:00 PM: Check-out | 7:00 PM: Check-out |
Please call 604-941-9777 or 1-800-736-RAFT