Fraser River Scenic Trip - Gentle rapids and great scenery
Great for Families, Kids, Seniors, Corporate Socials & Team-building Events!
SPRING SALE: $125 CDN/$95 US pp Mon-Fri trips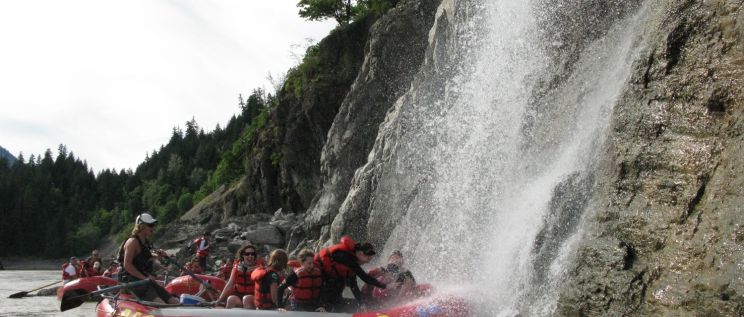 Fraser River Scenic Trip
Scenic raft adventure on the Fraser river starts 15 min from REO Resort. Easy class 1-2 float adventure with wildlife, waterfalls & mountain views. Best for ages 5+. Teenagers love to float the easy rapids tethered to a rope from the raft.

Choose the best river for your group: Fraser River near REO Resort or Green River Canyon near Whistler Resort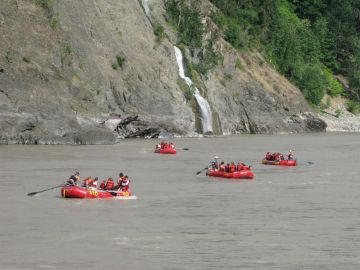 Fraser River
(near REO Resort)
:
the Fraser River is a classic river adventure for all ages. Features include several bouncy wave trains, spinning whirlpools and a hot canyon climate (30-35 C days in the summer). Paddling is optional, if you want you can just sit back and enjoy the views of the scenic Fraser Canyon. Wildlife we may see: eagles, osprey, black bear, marmots & river otters. Bonus: Super fun swimming in the warm Fraser River - just jump in and hold on to a rope from the raft as you enjoy a lazy float, This trip starts just 15 minutes from the REO Resort.
Green River Canyon
(north of Whistler Resort): The Lower Green River canyon starts off with several exciting rapids (you might get wet!) and then mellows out as we drift through the beautiful Coastal Mountains. Wildlife along theriver include beaver, deer, black bear, mergansers, eagles and ravens. The lower Green is suitable for ages 7 - 77!
Bonus:
guided hike to the Nairn waterfall (drops 185 feet!) prior to the rafting trip + this adventure is just 25 minutes north of Whistler village!
Nairn Waterfalls: Lower Green River near Pemberton BC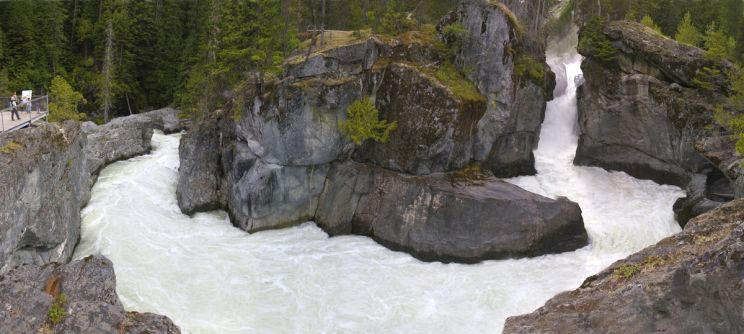 Best Dates: July, August, September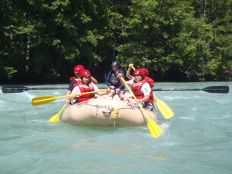 The lower Green River has 10 times the flow of the upper Green so our prime season is mid-June through August. Trips run Monday to Friday and by group arrangement.


Note
: this trip is much longer than the shorter raft trip from Whistler Village and features the longest commercially-rafted rapids on the Green River.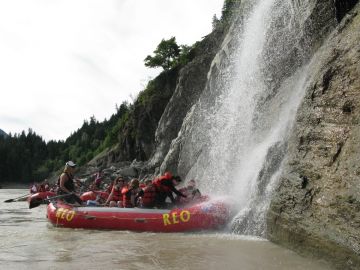 Weather on the Fraser River in July & August is typically hot (30+ C; 90+ F). Given our hot, blue-sky days we usually do not need a wetsuit, but be sure to bring your sunscreen! Splash jackets or wetsuits provided if air temp is below 20 C/70 F. The Green River trip runs near Pemberton BC and summers are equally pleasant and warm. We cannot guarantee that you will stay dry on either trip. Be prepared for water fighting and splashing on hot summer days! NOTE: We offer custom departure times for groups.
Scenic River Trip: Fraser River
Class 1-2: easy adventure for ages 5+
All Seats
$CDN
All Seats
$US
June - September: Includes lunch, snack & beverage Sun-Fri arrival
$125
$95
With bus transportation: round trip from Vancouver (group of 16-24)
$195
$145
With bus transportation: round trip from Vancouver (group of 25-39)
$180
$135
With bus transportation: round trip from Vancouver (group of 40+)
$165
$125
| | | | |
| --- | --- | --- | --- |
| Group 16-24 | Group 25-39 | Group 40+ | Schools/Students |
| $120 | $115 | $110 | $110 |
Group Rates Above:

Per person, $CDN ($US based on rates MAR 2017) & do not include charter bus transportation from Vancouver. Meet at Nairn Falls Provincial Park (Green) or REO Resort (Fraser) unless adding bus.
Family Rates: Please call 604-941-9777 or 800-736-RAFT or email Bryan
Group Departures with round-trip Charter Bus Transportation from Vancouver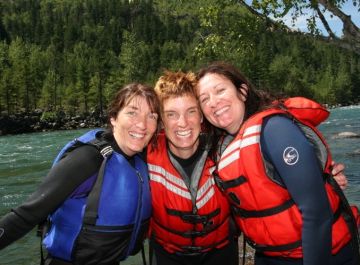 Looking for the perfect corporate appreciation or team-building event? Our all-inclusive corporate social or special event includes round-trip charter bus transportation from your meet spot in the Greater Vancouver area!

Price:
All-inclusive full-day adventure just $165 C / $127 US pp with round-trip charter bus from Vancouver (group of 40+). Green River trip includes Nairn Falls hike. Fraser River trip includes REO Resort amenities.