Club REO Silver: 3-Night Family Glamping Vacation
Arrive Sunday - Wednesday & Save up to $1450 per Family +
FREE Add-ons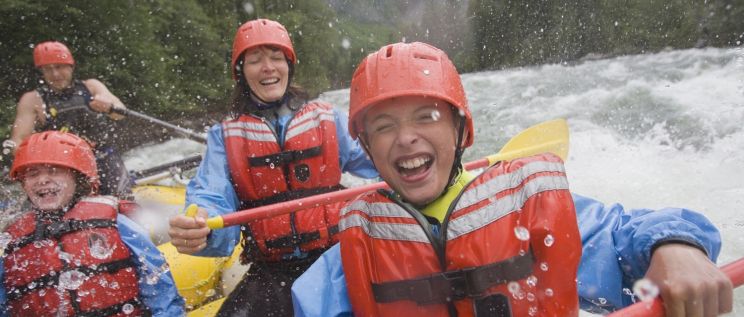 Club REO Silver 3-Night
Club REO Silver guarantees a great vacation the whole family will enjoy!
4 day / 3 night Club REO SILVER Vacation
Reg: $849 CAD per person all-inclusive
SALE:
$CAD pp
SALE:
$USD pp
Family of 2: 1 queen + 1 single (SAVE $180); rates per person

$759
$590
Family of 3: 1 queen + 1 single (SAVE $510); rates per person
$679
$528
Family of 4: 1 queen + 2 singles (SAVE $1000); rates per person
$599
$465
Family of 5: 1 queen + 3 singles (SAVE $1450); rates per person
$559
$434
All prices per person add 5% GST and 5% Land and Water Access fee. $USD prices based on exchange rates July 2017. Groups of 9+ please call for custom dates and prices.
Check out our Glamping Tents, Photo Gallery and River Safety.
Please call for more information 604-941-9777 or 1-800-736-7238 or email Bookings.

FREE for all Sunday to Wednesday Arrivals
Family night s'mores around the blazing campfire every Sun, Tue & Thu night
FREE Social hour with wine/craft beer provided by Foamers' Folly & appetizers every Mon and Wed night
Choice of FREE kids activity: a guided archery (ages 5+) or cliff jumping adventure (ages 11+; late July & Aug)
2 FREE Yoga sessions (ages 15+) on our new river's edge yoga facility (opens June)
Club REO SILVER includes
3 nights Glamping in family cabin tent with private river's edge deck (1 queen bed and up to 3 single beds)
8 delicious meals, beverages, snacks and desserts
Guided Nahatlatch Canyon hike (ages 7+; May - Sept)
Choice of 2 of the following adventures:
Whitewater rafting Nahatlatch River (ages 9+; June - Aug). Ages 13+ for optional Class 4+ rapids
Thompson River rafting (ages 11+; August & Sept)
Fraser River scenic rafting (ages 5+; July & August)
Kids camp: archery, games, intro to rock climbing (ages 7+; May - Sept)
Kids camp: qualified babysitter, crafts, age appropriate games/sports, exploring nature (ages 4+; May - Sept)
Stand-up paddle boarding tour (ages 9+; May - Sept)
Kayaking on Nahatlatch Lake (ages 9+; May - Sept)
Whitewater kayaking on Class 3+ rapids (ages 15+; late July & August; add $60 CAD pp)
1-hour Full-body Aromatherapy Massage (ages 15+)
Note: Minimum ages may be affected by river levels or other factors beyond our control. 
Check out this video one of our recent customers made! Get the inside scoop on what REO has to offer the whole family!