Club REO Silver: 3-Night Family Glamping Vacation
SPRING SALE: Book by Mar 31, 2017 - Save $280-$1250 per Family +
FREE Add-on Activities for Sun - Wed Arrivals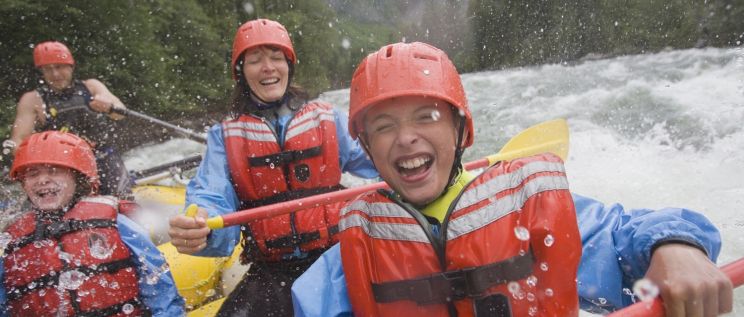 Club REO Silver 3-Night
Club REO Silver includes 3 nights in river's edge Glamping tent, 1 rafting trip & choice of one other activity: 2nd raft trip, kayaking, paddle boarding, massage or kids camp. Plus all meals, canyon hike & campfires.
4 day / 3 night Club REO SILVER Vacation
Reg: $789 CDN per person all-inclusive
SALE: $CDN
Pay by Mar 31
SALE: $US
Pay by Mar 31
Family of 2: 1 queen + 1 single (SAVE $280); rates per person

$649
$495
Family of 3: 1 queen + 1 single (SAVE $540); rates per person
$609
$465
Family of 4: 1 queen + 2 singles (SAVE $880); rates per person
$569
$435
Family of 5: 1 queen + 3 singles (Save $1250); rates per person
$539
$415
All prices per person add 5% GST and 5% Land and Water Access fee. $US prices based on exchange rates Mar 2017. Groups of 9+ please call for custom dates and prices.
Check out our Glamping Tents, Photo Gallery and River Safety.
Please call for more information 604-941-9777 or 1-800-736-7238 or email Bookings.

FREE for all Sunday to Wednesday Arrivals
Family night s'mores around the blazing campfire every Sun, Tue & Thu night
FREE Social hour with wine & appetizers every Mon and Wed night
Choice of FREE kids activity: a guided archery (ages 5+) or cliff jumping adventure (ages 11+; late July & Aug)
2 FREE Yoga sessions (ages 15+) on our new river's edge yoga facility (opens June)
Club REO SILVER includes
3 nights Glamping in family cabin tent with private river's edge deck (1 queen bed and up to 3 single beds)
8 delicious meals, beverages, snacks and desserts
Guided Nahatlatch Canyon hike (ages 7+; May - Sept)

Choice or 2 of the following adventures:

Whitewater rafting Nahatlatch River (ages 9+; June - Aug). Ages 13+ for optional Class 4+ rapids
Thompson River rafting (ages 11+; August & Sept)
Fraser River scenic rafting (ages 5+; July & August)
Kids camp: archery, games, intro to rock climbing (ages 7+; May - Sept)
Kids camp: qualified babysitter, crafts, age appropriate games/sports, exploring nature (ages 4+; May - Sept)
Stand-up paddle boarding tour (ages 9+; May - Sept)
Kayaking on Nahatlatch Lake (ages 9+; May - Sept)
Whitewater kayaking on Class 3+ rapids (ages 15+; late July & August; add $60 C pp)
Aromatherapy Massage (ages 15+)
Note: Minimum ages may be affected by river levels or other factors beyond our control.