4 night/5 day Family Rafting Adventure Vacation - Club REO Gold
Want to enjoy world-class seclusion & adventure? Our most popular Club REO features your choice of 4 adventures, 11 delicious meals and 4 nights at the river's edge!

Our Amazing 30th Anniversary Gift to Families: Youth U19 Raft, Play, Sleep, Eat......FREE!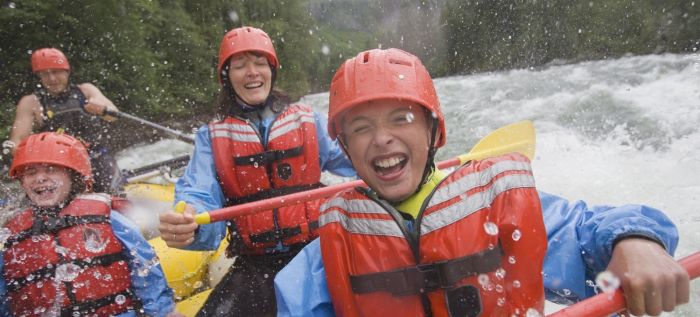 Family Rafting Package - Gold
Kids half price. All-inclusive. Includes 4 nights with cabin tent accommodation with linen, choice of adventures, 12 meals and full use of the resort facilities & amenities.

Book This Trip Now
Club REO GOLD All-inclusive
Arrive Sun or Mon: Youth U19 FREE
Adult
2013
Youth U19
with parent
4 night/5 day Club REO Gold: Family Cabin Tent (sleeps 5)

$1280
FREE
4 night/5 day Club REO Gold: Quad Cabin Tent (sleeps 4)

$1160
FREE
Youth FREE offer with min of 2 adults and Sun or Mon arrival. Add $300 per youth for other arrival dates.
3rd child in family of 5 is 50% off adult rate.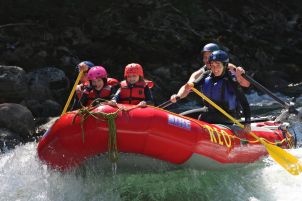 Family of 5:
Just $640 pp for 5-day all-inclusive 5-day family adventure vacation!
Club REO GOLD is our most popular family vacation. Staying for 5 days gives you lots of time to relax and play hard........just what an adventure vacation should be! Choose from one of our outdoor adventures or book a full-body aromatherapy massage. Each Club REO Gold vacation includes 4 adventures or combinations of mini-adventures! Mix and Match as you wish. Check out our
photo gallery
for pictures of past family vacations!
This is a perfect family vacation and gives you TIME to relax or go wild...all in a beautiful river and wilderness setting. 2013 Anniversary Special: All youth and children under 19 years are FREE!
---
Available: June 23 to August 30 and includes:
5 days/4 nights cozy cabin tent lodging in Family or Quad Cabin Tents
11 delicious meals, beverages, snacks and desserts
Daily social hour: wine & appies for adults; snacks and drinks for youth
Choice of 4 major adventures per person or 3 majors + 2 mini-adventures
Aromatherapy massage available Sun-Tue (adults; advance booking)
Kids Camp for ages 6+ with advance booking

Full-body O'Neill wetsuit, booties and splash jacket to wear rafting
2013 Dates: Sun & Mon arrivals from June 23-Aug 26. Limited seats for August 11-16, please call 800-736-7238 for availability.
Groups of 8+ please call for custom dates & prices.
Club REO family adventure activities -
Major adventures:
Kids camp (ages 6+)
Fraser River "float & swim" adventure (ages 6+)
Mehatl Cascades wilderness hike (ages 8+)
Nahatlatch Classic whitewater rafting (ages 9+)
Lake kayaking on Francis Lake (ages 9+)
Stand-up paddleboarding on Hannah Lake (ages 9+)
Whitewater kayaking (ages 15+)
Mini adventures:
Intro to rock climbing and rappelling (ages 7+)
Canyon hike & zips (ages 7+)
Archery & resort games (ages 9+)
Guided cliff jumping (August only; ages 10+)
N
ote: Minimum ages may be affected by river levels or other factors beyond our control.


All prices add 5% GST and 4% Land and Water Access fees.