2017 Raft Guide Training
Why not learn with the best raft guide training company in Canada!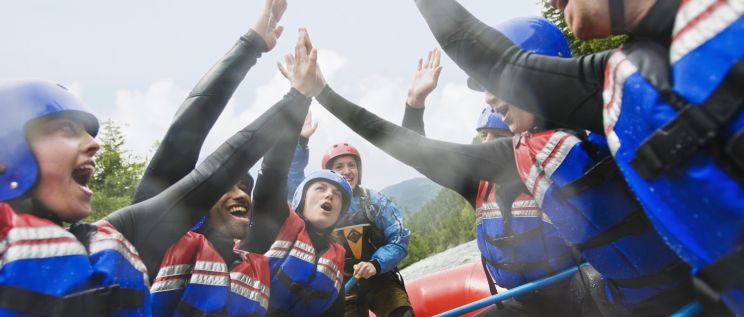 REO Raft Guide Training
The REO Raft Guide Training Program is a comprehensive guide development school for learning professional rafting skills on moderate to advanced whitewater.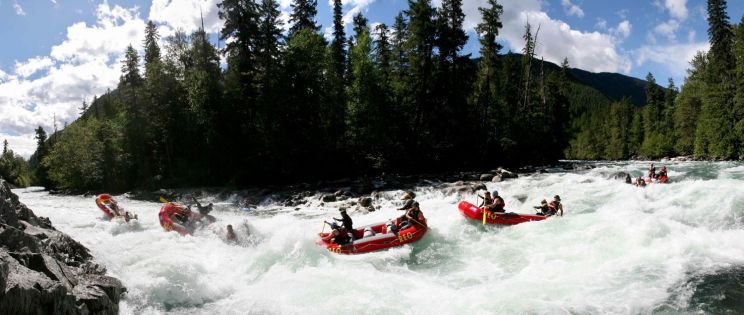 Professional raft guiding, the ultimate job! Few jobs can compare. Where else can you get an incredible adrenaline rush, live and work outdoors, and share good times with guests from around the world? Guests will often ask, "You get PAID to do this?"
A guide license is a ticket to travel. Many of our guides travel the world working as a whitewater rafting guide during our winter months, in destinations such as New Zealand, Chile, Australia, Costa Rica, Guatemala, Mexico, Honduras, Ecuador, Peru, Argentina, Nepal, Austria, and Africa. REO's high standards will prepare you to guide almost anywhere in the world.
British Columbia Rivers Require High Standards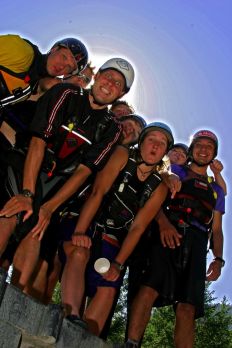 British Columbia is a whitewater gold mine with over 100 rafting rivers. Many of these are in remote wilderness settings where operating and safety standards must be high due to time and distance from assistance. Our rivers change daily, unlike many popular dam-controlled rivers around the world. Training on BC rivers prepares you with strong and diverse guiding skills.
REO offers one of the most comprehensive raft training programs in North America. Our instructors are focused & committed to your success. Each REO instructor is a rafting expert, certified as a Swiftwater Rescue Technician. They are confident, friendly and easy-going. Bryan Fogelman, REO President and Founder, sets course standards, selects and monitors instructors, and handpicks program participants.
Your Classroom is the Great Outdoors

O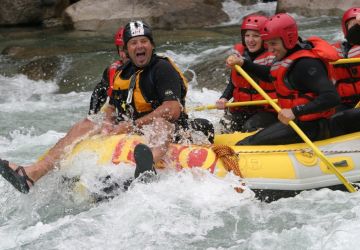 ur mission is to prepare trainees for excellence in guiding and to teach professional standards of customer care and service. Specific goals are to provide skills training, on-river experience, and practical knowledge to safely guide rafts thru Class 3 & 4 rapids (moderate- advanced). In addition, all trainees will get practical hands-on experience in resort maintenance, trip planning, meal preparation/clean-up, guest care, and logistics management. These skills will help you play a key role with any rafting company in the world.
Application & Course Details
To apply,
email your resume and cover letter to Bryan
. We will contact you for a Skype interview.
Prerequisites:
Physically fit, swimming ability, an outgoing personality, a good work ethic, able to communicate in English, and the desire to learn and live outdoors.
Minimum age: 15.
Smoke Free:
REO Guide School is a smoke-free environment.
Instructor Ratio:
Our Instructor/student ratio is typically 5:1 or better to optimize your learning.
Meals:
Meals, beverages and snacks are included. Trainees with special dietary needs must contact us; we cannot guarantee that our meal program will fit all special diets.
Camping gear:
Students will need their own tents for travel days, sleeping bags and personal gear.
Equipment
: For the 6-day course we provide basic gear: wetsuits, booties, helmet and lifejacket. For the advanced course, trainees must provide their own river shoes, helmet, river knife, and whistle.
Text Book:
The Complete White-Water Rafter by Jeff Bennett
. Please try to obtain a copy prior to the start of the program - it can be hard to find so start looking early.
Whitewater Kayakers:
Kayakers with extensive Class 4-5 whitewater kayaking experience may be accepted into a fast-track program. If this applies to you,
please email river log to Bryan Fogelman
.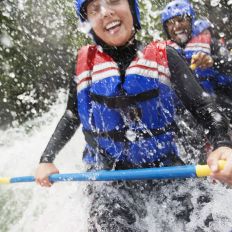 Visa Requirements (non-residents of Canada)
Many of our guide school attendees arrive from outside Canada. A work visa is not required to attend the REO Guide Training program. However, if you wish to obtain potential employment with REO or to volunteer in Canada for more than 4 weeks, we recommend you apply for a working holiday visa prior to arriving in Canada (allow 90 days for completion).
Click here for visa information.

2017 REO Guide Development Training Program
WEEK 1: INTRODUCTION TO PADDLE AND OAR RAFT GUIDING
May 25-31 (6 training days/1 non-training day)
If you want to be a professional river guide or raft serious Class 4 whitewater, this is your program. The REO whitewater course introduces you to a wide range of river-running challenges. We train you to guide both oar & paddle rafts, for basic swiftwater rescue skills and how to run rivers using the best judgment possible.
You will train on rivers that are among the steepest and most technical that are rafted commercially in Canada. Our 2017 training will take place primarily on the Nahatlatch (on Class 2-4 sections), but we use other rivers to complement our training and may include the Chehalis, Coquihalla, Stein or Nicola Rivers.
Each year, individuals take this training course to gain the skills and knowledge to safely paddle whitewater rivers, not necessarily to become river guides. Thus, this program is ideal for anyone with a sincere interest in paddling and exploring Canada's amazing rivers.
Course Fees
Option A -
$1200 CAD ($924 USD)
Option B -
Volunteer Option: $600 CAD ($462 USD) + 50 hour volunteer assignment.
Option C -
Apprentice : $0 + 100 hour volunteer assignment (must have select skills for approval)
Inclusions:
shared cabin tent lodging, 21 meals, beverages, 6-day on-river training & 1 non-training day
Note:
Volunteer option is available to Canadian residents/citizens and anyone with a working holiday visa for Canada. Volunteers arrive at REO in preparation to begin on May 5, 2017. Apprentice applicants should be available to start between April 15 and May 1.

WEEK 2: ADVANCED PADDLE RAFT GUIDING
June 1 - 7, 2017 (6 training days + 1 off-river day)
This guide development phase is required for all guide trainees who want to work with REO as well as all applicants who have guided rafts previously but not necessarily on the challenging rivers that REO operates. This intensive program will continue to develop on the practical skills taught in Week 1 with a primary focus on paddle raft guiding on technical Class 3-4+ whitewater.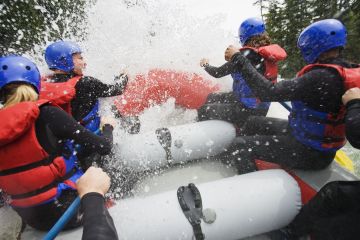 Course Fees
Option A -
$1200 CAD ($924 USD)
Option B -
Volunteer: $600 CAD ($462 USD) + 50 hour volunteer assignment.
Option C -
Apprentice: $0 + 100 hour volunteer assignment (must have select skills for approval)
Inclusions:
shared cabin tent lodging, 21 meals, beverages, 6-day training & 1 non-training day.
Note:
Volunteer option is available to Canadian residents/citizens and anyone with a working holiday visa for Canada.

WEEK 3: SELF-GUIDED TRAINING, RIVER EXAMS & CHECK-OUT RUNS
June 8-14 - 2017
This guide development phase is the final step to getting signed off and certified as a Class 3 whitewater rafting guide. Note that all trainees learn at different speeds and some trainees may not be ready to take and pass the on-river exam this week. Thus, we will begin the week with self-guided training runs, check-out runs with senior trip leaders and on-going on-river mentoring. We will begin the on-river BCROA exam process, starting with the most advanced trainees first.

Course Fees (Option A & Option B):
$0 CDN + 60 hours of volunteer assignment.
Inclusions:
Week 3 mentoring, training runs and BCROA guide examination and certification. Shared cabin tent lodging, 21 meals, beverages, snacks.

Full Program
Option A:
$2400 CAD ($1848 USD) + 50 hours volunteer on-the-job experience
Option B:
$1200 CAD ($924 USD) + 150 hour volunteer assignment May 1 - June 15, 2017
Option C:
$100 CAD ($77 USD) + 250 hour apprenticeship April 15 - June 30, 2017
Inclusions
: Shared cabin tent lodging and all meals, beverages, snacks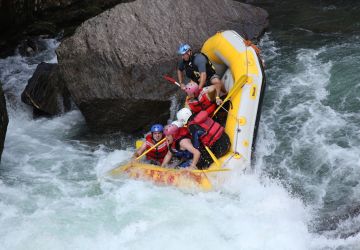 NOTE: Four apprenticeship positions are open for guide trainees with experience in the following:
carpentry, construction, vehicle repair, marketing/reservations (car required), yoga instructor training, logging/milling.
Application Fee:
$100 CAD all trainees.
Apprentice Term:
250-hour apprenticeship assignment April 15 -June 30, 2017. Includes shared cabin tent lodging & all meals for up to 2.5 months.


Note on Option A:
If REO customizes a fast-track training program for you, we will set up a 2-week program that includes 10 days of training, 2 days of self-guiding exploration with senior trip leaders and 1 day to complete the BCROA on-river exam.


Training Extension (After 3-week Guide Development Program & Prior to Guide Endorsement)
Like any highly skilled trade, becoming a professional raft guide takes time and learning curves vary. Some trainees need more training and experience to get a full endorsement from REO on Class 3 - 4+ whitewater. Post-course training extensions for up to 4 weeks following the main guide development program are available. Each 1-week extension includes 1 day intensive guide training with a Senior Trip Leader, two commercial rafting trips as training guide and a supervised endorsement run with a Senior Trip Leader when the trainee is ready to challenge. All meals, beverages, equipment and lodging at REO is included. Each 1-week extension includes a 30-hour volunteer assignment.
Custom Whitewater Training (1 - 6 days)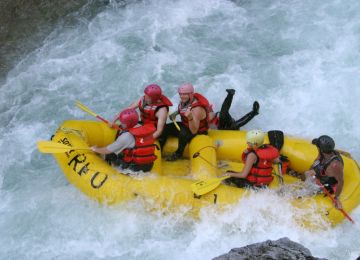 REO provides custom whitewater training for a diverse market including Fisheries, Search and Rescue staff, Department of Defence, private boaters (preparing for an expedition trip), as well as corporate team-building, cadets, and student groups. REO will organize a custom program that uses parts of our Whitewater Guide School training including learning to row oar rafts, intro to paddle raft guiding, rescue & swiftwater training, whitewater dynamics and hazards, safety & risk management.

Sample 3 day/2 Night with 2 Training Days, 7 Meals, 2-Nights Shared Lodging:
3 day/2-night program with 2 full days of training, 2 nights shared cabin tent lodging and 7 meals: $799 CAD ($615 USD) per person, Mon-Fri. Requires minimum of 2 trainees

Dept of Fisheries and Govt rate:
$649 CAD per person, min of 6 (all-inclusive of training, equipment, meals, lodging).
Deposit:
50% pp non-refundable deposit - balance due 7 days prior to start date.
Instructor/Student Ratio:
1 instructor per 2-6 students
Taxes:
All fees plus 5% GST.
Book:
Call 604-941-9777 or 1-800-736-7238 or email
bookings@reorafting.com