Activities & Adventures


Below are some of our most popular adventure activity options:
Rafting: Our specialty and what made us famous.......from mild to wild!
Lake Adventures: Paddle boarding and intro to kayaking
Resort-based - archery, teen zip lines, nature hike, rock climbing, ropes course, kids activities
Kayaking: A true adrenaline rush; choose easy to wild rapids!
Fishing: Sturgeon fishing with native guides from the Boothroyd Indian Band
Spa Services: Full-body massage and other treatments (pre-booking required)
---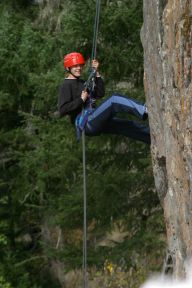 Intro to rock climbing
This is an excellent confidence building exercise ideally suited for children, teens and active adults. No prior experience is necessary.

Our beginner rock climbing wall is 30 feet high, perfect for people that are a bit nervous about heights, first-timers, teens and children.
Rock climbing is a popular Club REO activity. Everyone in the family will have the opportunity to make this summer vacation an exciting adventure.
---
Hiking
REO offers two beautiful hikes that are accessible from our resort, the Nature Trail and the Canyon Trail, . They range from easy to moderate and last from thirty minutes to one hour. These are perfect activities to add on to your adventure vacations and a good way to explore the surrounding area.
The Nature Trail starts at REO and follows the river upstream past the private beach and numerous rapids including Last Chance, Rock n Roll, and the Sleeper Hole. The Trail loops and follows the high ground back to REO.
The Nature Trail is best appreciated with one of our Interpreter guides who will explain the flora, fauna, geology and biology of the Nahatlatch valley. For those who wish to enjoy the solitude of the river on their own, the Nature Trail is open any time for casual walks.
The Nature Trail takes 30 minutes round trip as a hike and 15 minutes by running or biking.

Trail rating: Easy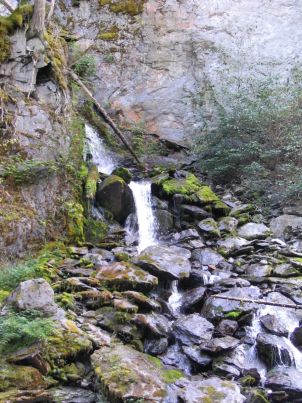 The Canyon Trail starts at REO and follows the Nahatlatch River downstream as it cascades and carves through a shale-rock canyon enroute to the Fraser River. This impressive hike discovers the hidden beauty of a canyon only accessible by trail.
The Canyon Trail is one of the most beautiful short hikes you will ever take. The jade-green pools of the Nahatlatch alternate with boulder-strewn rapids wedged between towering rock walls. The rush of the river is mesmerizing. Several waterfalls cascade into the river.
We recommend that guests take this hike with our guides, as they know the river and canyon intimately. The trail borders on the edge of the canyon and the raging river. Guests must be careful to stay on the trail. A roundtrip hike into the canyon and back to REO is between one and two hours.

Trail rating: Moderate
---
Ropes Course
REO's low ropes course is ideal for team building activities. Whether it be giving a group the opportunity to get to know each other better, bringing a corporate group closer, or simply having some fun with friends, REO's Low Ropes Course is the perfect venue. It is set up on REO property in a wilderness setting. We currently have 8 low ropes elements. These include: Log Challenge, Rope Swing, Island Hopping, Spider Web, Cable Traverse, Big Trust Fall, Standard Trust Fall, and Wind in the Willows.
Participants work together as a team to achieve a common goal. Whether helping someone across a cable or falling backwards off a 6 foot high rock there are always ways to challenge groups and individuals. All activities can be modified for difficulty depending on the group and group sizes. The entire course is designed to be used by small or large groups.


Team-building Combo
When you combine 3 mini adventures such as intro to rock rappelling, low ropes course and hiking you have what's known as REO's Team-building Combo. There is nothing better than spending a day with co-workers, class mates or friends doing things that are outside everyone's element. These activities are a great way to get to know each other better, emphasize the importance of working together to reach common goals and are just plain fun. This is an excellent add-on to any corporate or student retreat.
---
Inflatable Kayaking
Avail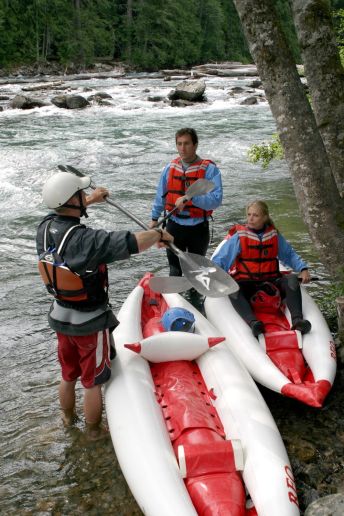 able: July - August
The intro to inflatable kayaking trip is available on the rivers and lakes near REO. Usually we offer kayaking trips on the Nahatlatch in late July and August. Whitewater kayaking is the ultimate step up from rafting and is very popular with our Club REO multi-day vacations.
We use inflatable kayaks that are easy to paddle, stable, and very forgiving with beginners. You will love running rapids right away without days of practice on the lake learning to roll a kayak (as required for standard hard-shell kayaks). If you fall out of an inflatable kayak, you only have to turn it over and jump back in.
Our kayaking instructors are experts with many years of experience running rivers throughout the world. They will give you hands-on instruction and be by your side as you run the rapids. In case of a swim, they will be there to assist you. Obviously, participants must have good swimming ability.
T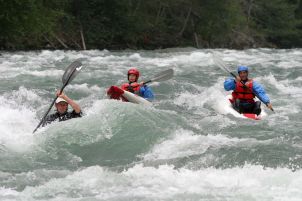 he instructors will determine which sections of river are suitable based on the lowest skill level in each group of paddlers (usually 3-5 paddlers per instructor). Thus, groups with children or beginners with no paddling experience will often do only the easiest sections. Groups of active adults with paddling experience, on the other hand, may be able to do most of the middle section of the Nahatlatch, which has numerous Class 3 rapids.
---
Sturgeon Fishing

Best: July - August
REO and the Boothroyd First Nations offer an exciting adventure: fishing trips and charters for giant white sturgeon on the Fraser River. This amazing trip includes a 17 km float trip on the mighty Fraser River upstream of the wild canyon section. This river section is Class 1 with no significant rapids, but is a beautiful float trip. We will float the Fraser to our special fishing beaches that can only be reached through Boothroyd land. Here we will meet our native guides who will set us up for sturgeon fishing.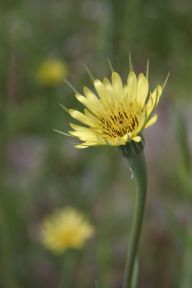 On a recent trip, we caught and released three sturgeons in just two hours of fishing. The largest fish was about 3.5 feet in length, weighed in at 40 pounds, and took about 15 minutes to reel in. The largest sturgeon fish ever caught from the eddies and pools above the Fraser River Canyon was 6 feet in length and took over an hour to land!
Sturgeons are giant fish with a very long life cycle. Many of the larger sturgeon are estimated to be many generations old. Given the long reproductive cycle, sturgeon fishing on the Fraser River is catch and release only. However, sturgeons are relatively abundant in the pools that we access. Based on our success to date, we will guarantee to catch and release at least one sturgeon on your fishing trip.
BC fishing licenses are required by regulations to fish for sturgeon. Day licenses are available in Boston Bar and Hope, BC.
---
Adventure Spa
Add any of the following spa treatments to your adventure package. All one hour massages are $95.00 plus tax. Please call our reservations office to confirm pricing and availability.
Aromatherapy Massage
Aromatherapy massage helps promote movement of lymph and body detoxification, relief of aches and pains, and relaxation. This service will combine Swedish style massage, Reiki, and reflexology techniques. The selected Essential oils for each individual will allow you to experience relaxation and healing like never before.
Sports Massage
Massage is one of the oldest healing arts. It offers both mental and physical benefits such as improved circulation, muscle tone, and relief of muscular and joint aches and pains. Let this service allow you time to relieve your mind of daily pressures and focus on yourself and your body.
Hot Stone Massage
Surrender to the stones as your body is heated and massaged with smooth river tumbled volcanic stones. You will reach a deep state of relaxation and will come away with a rejuvenated body, mind and spirit.
Reflexology
Reflexology is a natural healing art based on the principle that there are zones and reflexes in the feet, hands and ears that correspond to every gland and organ in the body. Through application of pressure on these reflexes, reflexology reduces stress, improves circulatory and digestive functions and helps promote balance in the body. An overall relaxing experience for the body as a whole!!!
Shoneena Lee Loss
Shoneena is a native of Kamloops BC. After extended travels through Europe and England, Shoneena returned to Canada and begin her Holistic education on Vancouver Island and later the Omega Institute of Holistic Studies In New York. Shoneena also studied with Native teachers hosting sweat lodges and received her Apprentice Shapeshifter Practitioners Certification.
Shoneena graduated from the British Columbia Institute of Holistic Studies as Holistic Practitioner. Shoneena holds certifications in over 13 different modalities and believes that the learning never ends! Shoneena also offers consultations and is a Certified Aromatherapist, Iridologist and Reflexologist and enables her to help others make health wise decisions in their lives through treatment planning!
---
Kids & Teenagers Rafting & Activities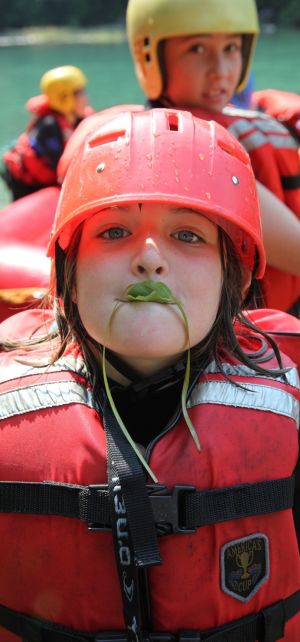 Activities by ages for Club REO families -
Ages 6-9:
Fraser River float & swim adventure
Beginner rock climbing & easy zips
Lake kayaking or paddleboarding with parent
Kids camp*
Ages 9-12:

Nahatlatch River rafting (July, Aug; Class 2-3)
Fraser River float & swim adventure
Beginner rock climbing, archery
Lake kayaking or paddleboarding
Mehatl Creek wilderness hike
Ages 12-14
Nahatlatch River rafting (July, Aug; Class 3+)
Fraser River float & swim adventure
Beginner rock climbing, archery
Whitewater kayaking
Lake kayaking or paddleboarding
Big swing & Teen Zip
Mehatl Creek wilderness hike
Guided cliff jumping
Ages 15 - 19

Nahatlatch Upper and Canyon rafting (Class 4)
Stein River rafting (Aug, Cass 5; restrictions)
Fraser River float & swim adventure
Beginner rock climbing, archery
Whitewater kayaking
Lake kayaking or paddleboarding
Big swing & Teen Zip
Mehatl Creek wilderness hike
*Kids Camp. Resort fun for ages 6 to 9, includes treasure hunt, nature hikes, and games. Kids Camp fees are included as an option in your Club REO vacation package (extra fees for non-Club REO). Kids camp is available with a min of 2 children, Mon to Thur in July & August.